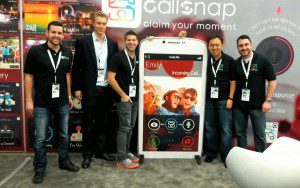 April 1st, 2014
There are tech shows and then there's SXSW in Austin.  TIP made our first South By appearance this year as an exhibitor.  To say the least, it was a great time!  The week was very productive and informative, and we made many great, high quality contacts.
We brought multiple members of our team to Austin including both our Art Director, Jeff and our Director of Digital Strategy, Jason.  It was great for these guys to see the peoples' reactions to what we are doing firsthand in the field!  They actually were thrown into the fire and became TIP sales people for a week!  Enrique from CA, who leads our west coast and LatAm sales efforts, made it in for the show as well.  It was a great team effort.  We even had one of our investors involved helping us with transportation for the week!
snaptube for pc windows 10
We had a Shaq appearance at our booth that drew  a big crowd, and even though the WSJ reporter cut us out of the final videoL, it was at our booth where he made his comment that went viral about spending $1,000/wk on apps.  Shaq did make sure to extol the value of our company mission and apps
multiple times throughout the show, which was great for TIP publicity
.
At the TIP Solutions booth we were primarily showcasing our downloadable CallSnap app.  As a photo-sharing app, CallSnap is very visual, so we made usage case photos the primary backdrop of the booth.
Also, we were previewing via video, and taking sign-ups for our iOS/Android service launching this summer, CALLcheck.  CALLcheck is the TIP app that will provide users a missed call log for when their phone has been off the network.  CALLcheck's tagline is "Never Miss a Call".  As usual, and because there were many business people in attendance, the reception to the CALLcheck service was very strong.  We are offering the first 10k sign-ups to have a free year of CALLcheck, so people were reserving their slot!
Lastly, TIP was promoting our B to B sales for
our Smart Calls service
.  We came out of the show with multiple Smart Calls partnership opportunities upon which we are actively following up.
By day and night, SXSW 2014 was a blast and a great audience for our mission in multiple ways.  If you've never been, whether your thing is tech, music, or film, consider attending next year!